Last year (you may have read), I participated in the Portland Mini MakerFaire. It was great. I absolutely loved sharing and teaching people. This year, I definitely wanted to participate again. In my typical fashion, I put it all off until the night before…

Organizing
As we were drawing nearer to summer, I realized I hadn't heard much about the faire for the coming year. I very much enjoyed being around other folks in the DorkbotPDX booth – so I figured I'd give them a shout out on our mailing list and see if we were doing it again. Somehow out of all of that, I ended up taking on the organization for the booth as a whole.
This was more or less outside of my particular comfort area, but I figured "What the heck?" I went to meetings, got us moved around,  made sure of power requirements, space, and that we all got a T-shirt.
Before I get to my project, I want very kindly thank my fellow Dorkbotters for displaying their projects beside mine. They were all really awesome:
Rich Burton showed his multi-rotor copters
Willy Nolan displayed his Powerglove DJ
Zach Archer showed his (now famous) Hypnolamp
Jim Larson displayed a couple of 3D printers, and his Dual extruder design
Paul Stoffregen showed his 1920 LED Display
Tom Hudson provided a squishy circuits interactive exhibit.
Mae Larson was everywhere around our booth helping visitors and answering questions
David Turnbull dropped off his Morse code switch and trainer – which people loved to swing by and play with.
All the projects were really well received, and my hat goes off to you guys for your hard work and amazing execution.
The best laid plans of mice and men…
Several months ago I started contemplating what it was that I was going to take to MakerFaire. I've been working on an idea for quite some time, but it depended (rather heavily) on my 3D printer working. For a long time, this was an unattainable dream. Recently however, I've managed to get all of my ducks in a row and my printer has been working.
Tragically, in spite of my success with the printer, some of my designs haven't printed very well. Specifically, I was building a robot for which I'd designed a planetary gear wheel – that is, a gear where the teeth are on the inside instead of the outside. Sadly, I couldn't get this design to print, and without these wheels I wasn't going to get anywhere.
Alternative
So, with no quick solution to my printing problems, I decided to work on something very different. Every once in a while I like to dive into 80's nostalgia. On one particular day I was going through history of video game consoles and came across R.O.B. If you don't remember ROB, he (it) was an accessory early on for the NES console system. R.O.B. stood for "Robotic Operated Buddy". Nintendo had been trying to differentiate itself from the existing video console industry due to strong resistance in the retail world after the video game crash of 1983. My idea was this: Replace the brain in ROB with a Single-board computer, use a USB webcam to have ROB identify the color of the shirt of the person in front of it, and hand that person a cup of matching M&Ms.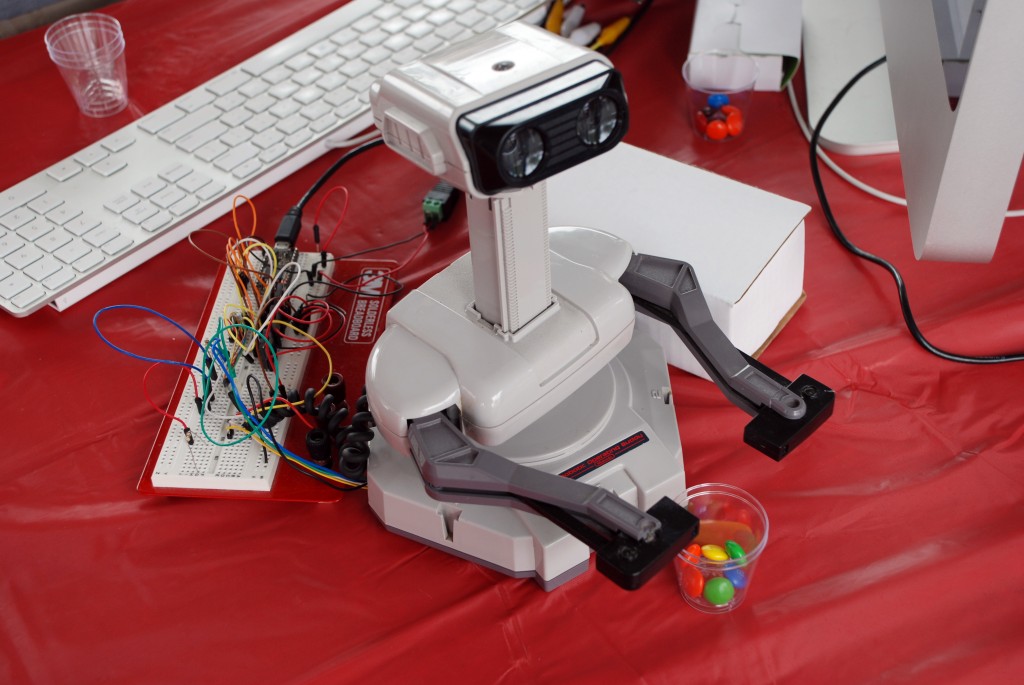 It was quite ambitious. On Friday (yes, the day before MakerFaire) I decided to do all this. I had a BeagelBone Black, I knew Javascript inside and out, and I figured I could pick up the difficulties on the way. That afternoon I ran to Surplus Gizmos and bought some motor controllers.
Unsurprisingly, things weren't going so well. For reasons I couldn't quite fathom, I couldn't get the BeagleBone to do what I wanted. In the end I decided it was better to have a project that did something, than to have no project at all. I got rid of the Beaglebone and swapped it for a Teensy3. I wrote a program and wired up a circuit that did the simple task of controlling Rob's 3 motors: Up/Down, Left/Right, Open/Close.
It wasn't perfect, but it was enough that I could show something off.
The Day of the Faire.
Though it had rained the previous night, our Makerfaire turned out to be a very nice day. Setup went quick and before you knew it, we had people visiting us. I had a great time showing off ROB. My initial software for him only allowed him to do one thing: Pick up a cup of M&Ms on his left, and drop them in front of him. Additionally, because I didn't have anyway of determining position, I coded the movements based on time. It would be something along the lines of:
Turn left for 3 seconds
Close arms for 3 seconds
Lift arms for 6 seconds
Turn right for 4 seconds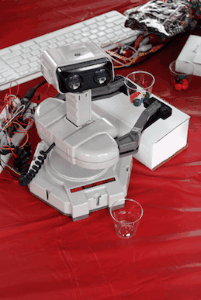 It went on like this, and then looped to the beginning. The best part about the process though was seeing kids interact with ROB. Inspite of his not doing much, kids were absolutely fascinated by ROB. I offered them a rule: They could have as many M&Ms if they had permission from their parents, and the robot gave it to them.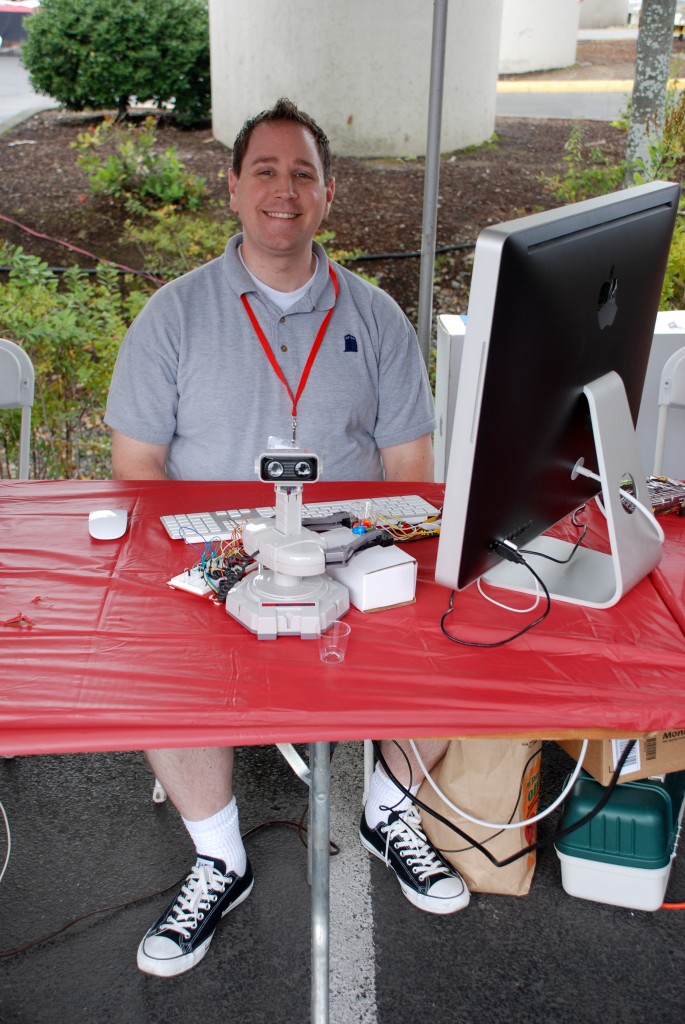 Kids waved at ROB, said hello to him, identified him as WALL•E, and waited in anxious anticipation as he continually lifted, moved, and dropped M&Ms. ROB was imperfect, and I found a little ways into the day that the M&Ms were less likely to spill if the cup ROB was holding was dropped into another cup. Sometimes ROB would spill. kids (and parents) were surprisingly patient through the cycle. I had a mother and son wait through 4 consecutive cycles and cheered (!) when ROB successfully placed the M&Ms.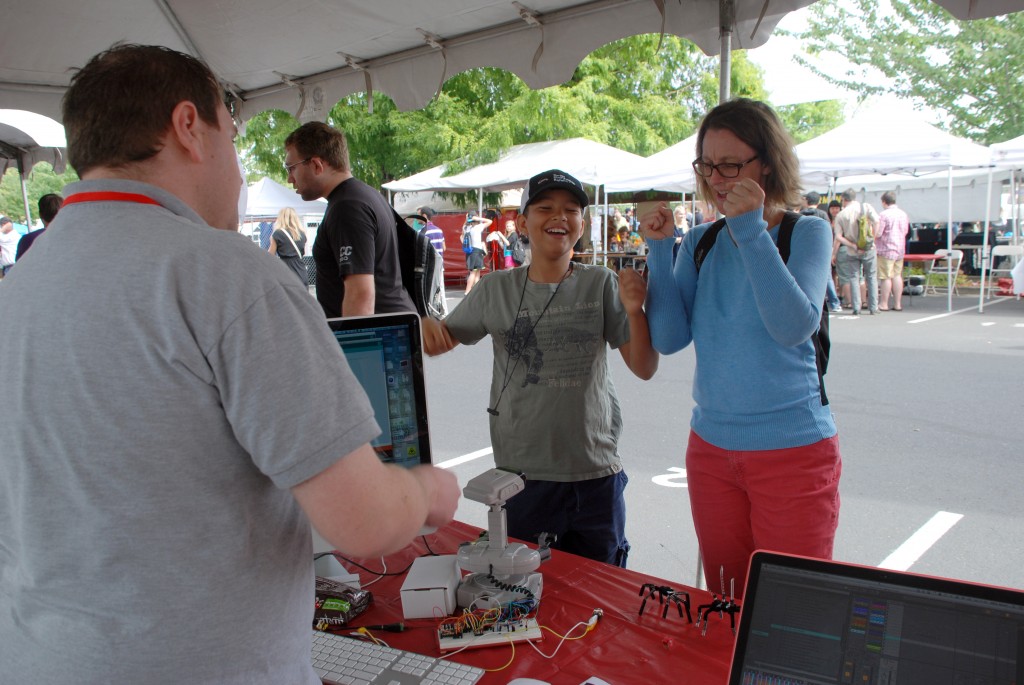 Which really brings me back to why I like MakerFaire and the Maker movement so much. We're celebrating not only our successes, but our failures too. Making is about the project as well as the product.
I was absolutely delighted to share for the 2nd year, and look forward to many more years of sharing. Once again I am very appreciative of my fellow Makers in the DorkbotPDX booth for their hard work, projects, and generosity before, during, and after the faire.
More technical details about my ROB setup (including significant improvements in his code) will be coming in a future post.