A week ago was Hykel's birthday. After seeing a billboard on the highway (yes, sadly they actually work), she expressed some interest in taking on what is termed as an "Aerial Obstacle Course." Not one to disappoint, I took us there for an afternoon.
I should start out by saying that I have a mild fear of heights. I can stand at a railing okay, but generally speaking I'm not too comfortable with being high up. This didn't occur to me until after I'd setup the appointment. By the time I did realize that I would be up in the air for most of this, I decided that I was going to do it anyway.
We arrived slightly before 1pm, and signed in. We were given our harnesses and walked over to a tent where we met our helpful guide (Kate) and learned out to put on our harnesses. The harness has a pair of "Lobster Claws" which alternate locking. Each has a switch on it which is triggered by placing it in a special key to engage the lock. When you engage the lock on claw A, claw B unlocks and vice-versa. This is great because once you get started on the course, it means you can never be unattached to a safety cable.
Hykel also wants me to note the likeness of said claws to Acromantula pincers.
You also get a "trolley", which is that cool thing you get to put around a zip-line to slide down.
With harnesses and helmets, we learned exactly what it was that we were about to do. Tree-to-Tree is (as mentioned above) an aerial obstacle course. It's like an obstacle course on the ground, except you're suspended in the air and you're moving between trees.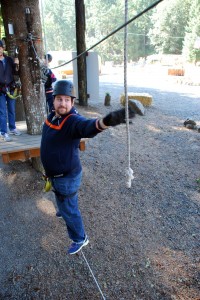 Each tree has steel cables wrapped around with one of the special keys which would switch our claws. Kate made our first training task look tremendously easy. It wasn't nearly so, but we both managed to across without incident. There was also a zipline test.
After effectively proving that we could scale the simplest of obstacles, we were set loose to take on the four courses offered (if we wanted to – it was assumed we'd do at least a couple of them). Each course was a graduated difficulty, and we were encouraged to attempt the obstacles without hanging onto the support line. Hykel was very good about this, I on the other hand, used it all the time.
My least favorite obstacle (of the ones which I traversed) was a horizontal climbing wall. I've only ever attempted climbing walls twice. Once at the state fair this past September, and the other being this very day. I can't tell you what exactly it was. Lack of footholds, awkward body position…either way it was lame. I still got through it.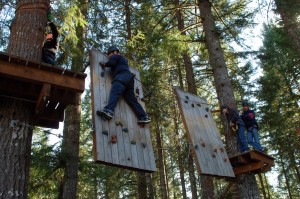 My favorite obstacle was a slide swing. The idea behind this was that you pull it back to you, step on, and cross the gap. In part I liked to because it was a stable platform. The real reason I liked it is because of the ease with which I accomplished the feat. I don't know how I figured out the trick to this thing, but basically you  have to step on it, and lean forward. I glided across the chase like a viking on the bow of his boat. Hykel was impressed 🙂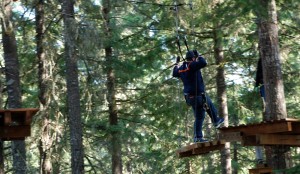 There were 4 zip lines that I got to go on. They're mostly at the end of the courses because they're a convenient way to get back to the ground. They're all a bit nerve-racking. Unlike the other obstacles, you don't have anything to grab onto except the trolley which is zipping you down the line. I found that I had to just take a breath and push myself off of the platform. On the first major zipline Hykel forgot to 'hug the tree' (not a euphemism) and ended up sliding back into the middle of the line. She had to walk herself across (which I think she secretly wanted to do anyway.) For a bit of fun on the last one I did, I made a bit of a face cause Hykel had her camera.
| | |
| --- | --- |
| | |
I went through two of the courses and declared that I was spent. Hykel, feeling camaraderie with a group of women in front of us decided that if they would take on the next step, so would she. "The Junkyard" was the qualifier to moving forward in the course it consists of a wall made of rope ladders, tires, and a climbing wall.
The reward for climbing the Junkyard and making the trek across the way was another zipline!  Hykel was amazing climbing up. It was a tremendously difficult obstacle and I am forever impressed with her.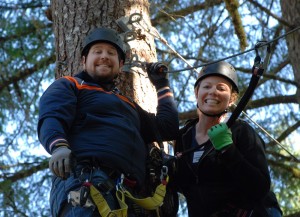 It was occasionally scary, but a lot of fun. I discovered an interesting perspective that probably applies elsewhere in life. When you're moving from tree to tree, you can't really give up and stop. You either have to go back, or go forward. You might as well go forward and finish the course you started.
I really glad we had the opportunity to go. It was an experience never to be forgotten. A couple of recommendations if you ever manage to find yourself out at Tree-To-Tree:
Wear gloves. We were the only couple with gloves and I cannot imagine running the course without them. Even with, my hands got sore and tired.
Trust your equipment. Lean on it a little. Recognize that if you make a misstep, you're not going to fall. When you learn to depend on your equipment, it's a lot easier to move around.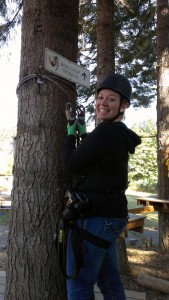 I think she had fun.