This started out as a "Project of the Week" post, but As it started to take form, and started to stretch beyond a week, I decided I wanted to make a more dedicated post about the developement process.
MakerFaire never takes me by surprise, but I always do end up working on it until that last minute. The first year I was up until midnight working on my Kinect-controlled Roomba. The next year, I'd barely gotten my ROB wired up to automatically move through processes. The following year, I'd done a little bit better of a job having completed some control programming.
This year is really no different. I'm mere days away and I'm still figuring stuff out.
I oscillated on projects a little, but having gotten my printer working, I decided to be somewhat adventurous.
One day a couple of years ago, I came across the old ad for the first generation titled "UFO". It gave me the idea for turning them into robots. I bought 3, and gutted them (giving the internals to a hackerspace) and they sat doing nothing. I could really ever figure out what to do with the robots I'd made.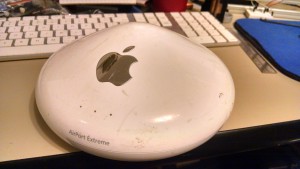 I did some lousy dremeling on the bottom case and printed some mounting brackets. I did my best to make sure the motors were properly in the middle – if they're offset, your differential drive math doesn't quite work out.
In the middle of all this, a large ball bearing appeared magically on my desk. I genuinely have no idea where it came from – a gift from the robot fairy – With my working 3D printer, I went and found a script to generate a castor for the bearing. In an hour, I had a perfectly working castor.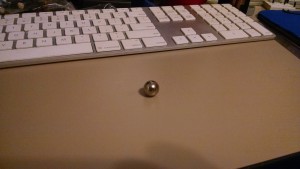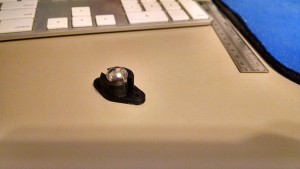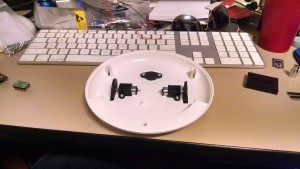 With the mechanics in place, I added a brain to my project – and that's where my troubles begin.
To be continued…